Scaling New Heights, SST Was Listed among Shanghai Top 50 Internet Companies by Comprehensive Strength
Recently, Internet Society of Shanghai released the first rankings of the "2022 Shanghai Top 50 Internet Companies by Comprehensive Strength" and "Shanghai Top 10 High-growth Internet Companies", along with the 2022 Shanghai Internet Company Comprehensive Capabilities Index Report (hereinafter referred to as the Report). Shanghai Symphony Telecommunications Co., Ltd. (hereinafter referred to as SST) was certified as "2022 Shanghai Top 50 Internet Company by Comprehensive Strength" and "Shanghai Top 10 High-growth Internet Company" by the Internet Society of Shanghai.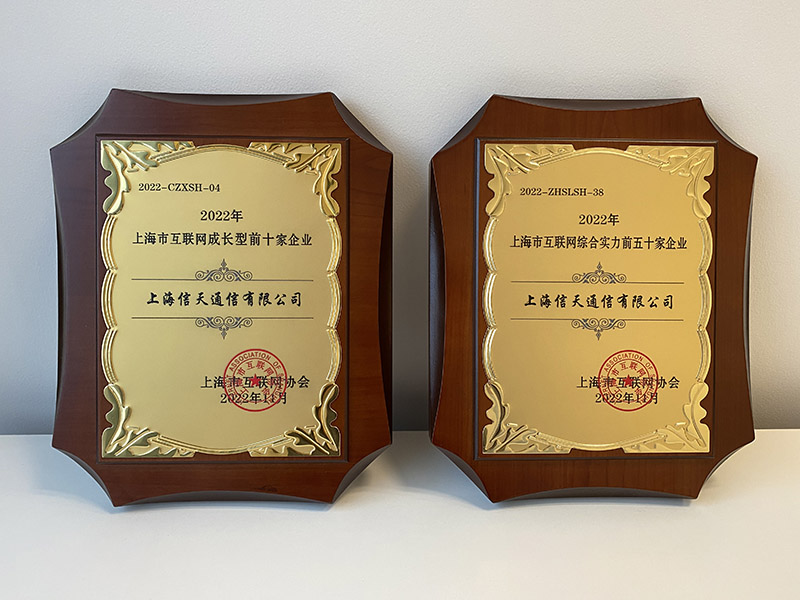 Staged by the Internet Society of Shanghai under the instruction of the Shanghai Communications Administration and Internet Society of China, the rankings recognized the best performers in the industry by 11 key indicators across 6 dimensions including scale, profitability, innovation, growth, risk control and social responsibility, making allowance for industry developments and expert opinions. As suggested in the Report, the top 50 Shanghai Internet companies by comprehensive strength saw a 25.7% surge in the revenue to nearly CNY 600 billion, representing 13.7% of the city's GDP. It should be noted that of all the top 50 Shanghai Internet companies, only 3 were ICT service providers, including SST which ranked the top. It indicates that taking advantage of the city's industrial clusters and regional resources, SST, along with other standouts in the industry, are already instrumental in and provide a robust impetus to the development of Shanghai's digital economy. Being listed in the rankings also comes as an affirmation of SST's valuable experience and mighty strength in serving customers built in over 20 years of practice in the industry.
SST was jointly invested and founded by China Telecom Corp., Ltd. (CTC), American Telephone and Telegraph Company (AT&T) and Shanghai Information Investment Inc. (SII). As a Sino-foreign joint venture for value-added telecom operation and information platform for business operation across geographical boundaries and cultural differences, SST has emerged and burgeoned under a sound innovation institution in Shanghai. With continuous effort in innovation technology and development, it has been providing high-quality telecom services for more than 600 well-known multinational and local enterprises in finance, manufacturing, logistics, retail, etc. ,and offering strong support for many Chinese enterprises to go abroad for global competition.
The integration of technical services has increasingly been a focus in the Internet and ICT business upgrading. Keeping abreast of the latest development, SST spares no effort to upgrade all product lines and technical solutions: leveraging its shareholders' national and international network resources, it delivers stable, secure and efficient corporate private network services to customers; by dint of SDN and NFV among other technologies, it integrates network features of distinguished vendors in a standard device, simplifying network architecture and easing operation & maintenance; SST's multi-cloud connection service featuring a multi-user cloud connection platform helps users get rid of time-consuming procurement and delivery categorically; and the company's new-generation WAN service product streamlines WAN routing resources with network management and operation effectively simplified.
After over 2 decades of technical advances, SST keeps upgrading and making new ground in product development, in an attempt to maintain total supremacy in the industry. As a result, there is a growing acknowledgment of the telecom powerhouse among its peers, media and customers. In line with strict and creative standards for over 20 years, it is committed to broadening service boundaries and diversifying application scenarios. With steady risk control in technology and innovation, it cements its technical strength with sustained endeavor, involved in and witnessing the evolution of the industry. As the ICT industry is booming under support of the national government, SST is bound to continuously contribute to a bright future of the communication and ICT industry!